Mexico missing student protests: demonstrators share their perspectives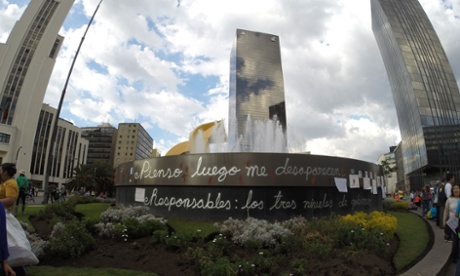 The students who studied at Ayotzinapa, a teacher training college in the state of Guerrero, south west Mexico, went missing on the night of 26 September. After taking part in a protest in the city of Iguala, about 120 miles south of Mexico city, the convoy of buses they were travelling home on came under fire from Iguala's municipal police. Subsequently a series of mass graves have been discovered just outside Iguala, though it's as yet unconfirmed whether they contain the bodies of the students.
Since the disappearance, thousands of Mexicans have taken part in protests to demand action from the government, here are some of their perspectives.
On October 8th, the streets of Guadalajara smelled like sorrow and anger; to some of us, it smelled like murder.
When I heard about the students in Ayotzinapa I remember I was in shock because I thought that after the events of Tlatelolco and Atenco, Mexico wouldn't do it again. I hoped that the people who were supposed to protect us would finally do it. But in Mexico, under this government, hope just means eternal misery. my explanation
That is the reason why I decided to walk, to join hundreds of people and fight for the students rights, for our rights. During the manifestation, I heard an elder woman yell "Why are they murdering them? If they are the future of Latin America" That sentence stayed with me all the way to the end and I am sure it will stay forever, at least until my government proves that they were not, nor will be involved in any massacre.
In my city, we were about two thousand people asking for a result, good or bad, we wanted answers. We were surrounded by the local police, who are naturally trained to stop freedom of expression. But we kept going, yelling as if it was one voice "You took them alive, we want them alive". And what do we get now? Shallow news stating that new corpses are appearing in Guerrero. Corpses that are yet to be identified, corps that could be our students.
At the end of the walk, we all gathered in one place, while a well known local activist talked in a microphone about our students, yelling their names and asking for justice. We had five minutes of silence and in that moment I wondered about our authorities. Were they ashamed? How could our president sleep at night knowing that hundreds were dying everyday? Not just 43, but thousands of mexicans dying in the hands of the federal police. I realized then what thousands of people wrote: Here, if we think, we disappear. If we speak, we die.
Sent via GuardianWitness
Karen continues "I don't know if things will change, I want to believe that they will, I want to believe that our younger generations won't have to put up with this anymore. Unfortunately, in my country poverty reigns and the Mexican government takes advantage of this ... People need to be fearless you know? They need to stop being afraid of the 'what if', it feels like we live in a country where terror is the main law. A change is possible, and right now we have the ball in our court, so we better make the most of it."
During the Cervantino Festival, students of the University of Guanajuato decided to march to demand justice for what happened to the young students of Ayotzinapa.
Sent via GuardianWitness
Juan adds "Like a lot of people, I'm just tired of all the crimes and the corruption of the Mexican government."
London demonstration to demand the presentation of the disappeared students in Ayotzinapa.
A week ago, the 2nd of October, about twenty people demonstrated outside the Mexican embassy in London to protest the murder and enforced disappearance of rural students in the Mexican state of Guerrero. In that occasion, a letter was delivered to the Mexican consul, who promised to give us a written response. As of 5:30 pm today (08-10-2014), 17 minutes before our action, we received an email from the Mexican embassy in which they repeat the official discourse according to which 'the federal government is taking care of the matter'. About the whereabouts of the 43 disappeared students, nothing is said.
On October 8th, at 5:30 pm, over 50 people, Mexican and several other nationalities, gathered around the embassy to join the over 80 solidarity demonstrations that where taking place all over the world, to demand the safe and sound presentation of the Ayotzinapa students.
During the last days, the Society of Mexican Students in the UK, the Mexican Society of University College London, and the Mexican Society of Oxford University published public statements in which they protested the events taking place in Mexico and demanded the safe and sound presentation of the dissappeared, as they also manifested their solidarity with their families.
Zapatista Solidarity Network in the UK
Sent via GuardianWitness
Mijael continues "I am part of LMSG since one year ago, and we have been involved in the campaign against repression since we knew of the police attack against the students of Ayotzinapa. On 2 October, we had the first action about this problem. We are almost sure it was the first action for Ayotzinapa out of Mexico, and it had a very good reception in the most important media in Mexico. That day we gave a letter to the Mexican ambassador emphasizing that the disappearance of these students is not an isolated crime in Mexico, but only one of the expressions of impunity, corruption and violence that the federal government has guaranteed for itself and for the local governments."
Mexico is in a permanent state of war. Only, its losses are unknown to the world. Since 2006 to date, around 400 mass graves have been found, with about four thousands dead people. The "War against the drugs", that took the army in the streets, has only been useful to repress social discomfort. The organized crime is thriving, and the "side losses" are ignored. But the Institute of statistics released this year a report highlighting the "over-mortality" of young men in Mexico due to violent death in Mexico. These are not isolated cases. It is a war against critical thinking, whereas political elites are sharing the profits with the organized crime. This is a narco-government.
Sent via GuardianWitness
Emilia adds "I live in Mexico City, but I have been working with government officials in Guerrero. Guerrero is the area in which the Ayotzinapa events took place. In the past days the government officials of intermediate ranks were outraged by the situation and were supportive of people's demands. They know that the power structure in Mexico is feudal and even if they do their best efforts, they face everyday the challenges of our history. This is why it's so important to name those responsible and not leave it as if this is an a-historic massacre."
Protestors sit around an improvised podium where student victims and missing names where remembered.
Sent via GuardianWitness
Zedconte adds "This is the first time I have demonstrated about this. I took part in this protest because I am fed up with the many authoritarian displays of the Mexican State, normally they go unpunished and unnoticed just to vanish into collective memory. I don't want us to forget these kids and what a horrible crime happened here."
Students and citizens of Guadalajara take part in a solidarity march for the missing students of Ayotzinapa.
Sent via GuardianWitness
Benjamin continues "I wouldn't consider myself a hardened campaigner on any issue, but have marched in the past for various reasons: against the Iraq War for example, against austerity cuts and against violence in Mexico."
You can see all the contributions or submit your own via GuardianWitness.